5 Reasons to Overclock Your PC
Hey there, tech enthusiasts! Are you wondering what overclocking is and why you should consider overclocking your PC? Buckle up, because today I'm going to walk you through the 5 compelling reasons to overclock your PC.
Get ready to supercharge your computing experience!
What is Overclocking?
Before we dive into the reasons, let's clarify what overclocking is all about. In simple terms, overclocking involves tweaking your PC's components, like the CPU or GPU, to run at higher clock speeds than the manufacturer's specifications. This results in increased performance and can lead to a more dynamic computing experience.
Reasons to Overclock Your PC
Following are the major reasons to overclock your PC.
1. Boosted Performance
Imagine your PC running applications and games at lightning speed. Overclocking can make this a reality. By increasing clock speeds, your components can process tasks more quickly, leading to smoother multitasking, faster load times, and enhanced overall performance. Whether you're a gamer, content creator, or just someone who demands snappy responsiveness, overclocking can give you that extra edge.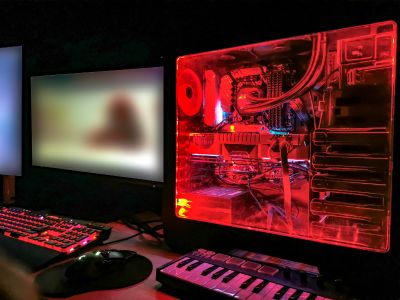 2. Cost-Effective Upgrade
Looking to upgrade your PC without breaking the bank? Overclocking might be the answer. Instead of splurging on brand new components, you can squeeze out more power from your existing hardware. It's like getting a performance upgrade without the hefty price tag.
3. Extended Lifespan
You might be thinking, "Wait, won't overclocking cause my components to wear out faster?" Surprisingly, that's not always the case. When done correctly, overclocking can actually lead to a longer lifespan. How? By optimizing the voltage and thermal settings, you can ensure that your components operate within safe limits, preventing premature ageing.
4. Tailored Experience
Every PC user has unique needs and preferences. Overclocking allows you to tailor your PC's performance to match your requirements. Need maximum power for demanding tasks? No problem. Want a quieter experience for casual browsing? You got it. With overclocking, you're in the driver's seat, customizing your PC's performance just the way you like it.
5. Pushing Technological Boundaries
Are you the type who loves to tinker and explore the limits of technology? Overclocking is the perfect playground for your curiosity. It's like taking your PC to the gym and seeing just how much muscle it can flex. By pushing the boundaries, you can achieve feats that were once deemed impossible and gain a deeper understanding of your hardware.
How to Safely Overclock Your PC?
Before you embark on your overclocking journey, it's crucial to do your homework. Research your components, understand the basics of voltage and temperature management, and invest in quality cooling solutions. Remember, safety first! Overclocking done recklessly can lead to instability and potential damage. So, take it slow, monitor your system, and enjoy the incremental improvements.
Conclusion
We've explored the reasons why overclocking can be a game-changer, from the boosted performance and cost-effective upgrades to the tailored experience and pushing technological boundaries. Just remember, with great power comes great responsibility. Safely unleash your PC's potential, and you'll be amazed at the incredible performance that's been hiding right under your nose.
FAQs
Is overclocking safe for my PC?
Absolutely, but caution is key. With proper research, monitoring, and cooling, you can overclock your PC safely and enjoyably.
Will overclocking void my warranty?
In most cases, yes, overclocking can void your warranty. Be sure to check your manufacturer's policy before diving in.
Can I overclock a laptop too?
While some laptops allow limited overclocking, it's generally more challenging and risky due to cooling limitations.
Do I need specialized hardware for overclocking?
Not necessarily. While advanced cooling solutions can help, many CPUs and GPUs can be overclocked using stock components.
What software can I use to overclock my PC?
There are several popular software options, including MSI Afterburner and Intel Extreme Tuning Utility, designed to assist you in safely overclocking your components.