How to Clean Thermal Paste Off CPU
Whether you're upgrading your processor or tackling some overheating issues, getting rid of old thermal paste is a must. Don't worry! It is not as difficult as it sounds! In this article, you shall learn how to clean thermal paste off your CPU.
So, without any further delay, let's dive in!
Why should you clean thermal paste off CPU?
When your CPU starts running hot, the culprit might just be the dried-up thermal paste. Over time, this paste loses its effectiveness, leading to poor heat transfer between the CPU and the heatsink. This can result in throttling, reduced performance, and even system shutdowns. Fear not, as I'm here to guide you through the process of safely cleaning and reapplying thermal paste.
How to Clean Thermal Paste Off CPU: Step-by-step guide
Step 1: Gather Your Supplies
Before we start, let's gather the tools we'll need for this job:
Isopropyl Alcohol (90% or higher): This is our magic potion for dissolving thermal paste.
Lint-free Microfiber Cloth: To wipe away the gunk without leaving any residue.
Cotton Swabs: For those hard-to-reach spots.
Thermal Paste: You'll need a new thermal paste for reapplication.
Rubbing Alcohol (optional): In case the isopropyl alcohol isn't cutting it.
Plastic Spudger (optional): Handy for gently prying components.
Step 2: Preparing for the Process
Before you start dismantling your rig, remember to power off and unplug everything. Safety first, folks! It's also a good idea to work on an anti-static surface. Open up your computer case and carefully remove the CPU cooler. If it's held down by screws, make sure you unscrew them in a diagonal pattern to avoid warping the CPU.
Step 3: Removing the Thermal Paste
Now comes the fun part – removing the old thermal paste. Take a deep breath, and gently apply some isopropyl alcohol to the lint-free cloth. Gently wipe the CPU and heatsink until most of the thermal paste is gone. For those stubborn spots, a cotton swab dipped in alcohol should do the trick. Remember, patience is key here – don't rush and scrub too hard.
Step 4: Cleaning Residue
To make sure you've got a clean slate, use rubbing alcohol. Dampen a cotton swab or cloth and carefully remove any remaining residue. You want that surface to be as pristine as possible for the new paste to work its magic. Once you're satisfied, give it a minute or two to dry completely.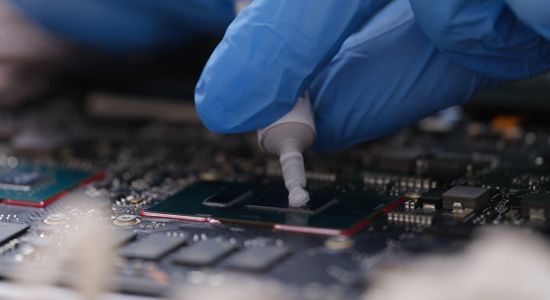 Step 5: Applying New Thermal Paste
Now, it's time to apply the new thermal paste. But hey, don't overdo it! A pea-sized drop in the center of the CPU is all you need. When you reattach the cooler, make sure it's evenly tightened down. The pressure will help spread the paste evenly. Just remember, we're not making a sandwich here – a little goes a long way!
Conclusion
And there you have it! Cleaning thermal paste off a CPU might sound like a tricky task, but armed with the right knowledge and tools, it's a breeze. By following these steps, you'll ensure optimal heat transfer and keep your system running smoothly. So go ahead, give your CPU some TLC and enjoy that improved performance.
FAQs
Is it necessary to clean off the old thermal paste?
Absolutely! Old thermal paste can harden and become less effective over time, leading to heat issues.
How often should I reapply thermal paste?
It's a good idea to do it every couple of years or whenever you're changing components.
Can I use regular alcohol for cleaning?
Stick to isopropyl alcohol or rubbing alcohol for the best results.
Is there a specific way to apply thermal paste?
Yes, a small, pea-sized amount in the center of the CPU is sufficient.
Can I use too much thermal paste?
Yes, using too much can actually hinder heat transfer, so go easy on it.