How to Apply Thermal Paste and How It Works
Hey there! If you're like me and love diving into the ocean of computers and gadgets, you've probably heard about thermal paste. But how do you apply thermal paste to your CPU? What exactly does it do? And how does it improve your computer's performance? This article discusses it all.
So, without further delay, let's dive in!
What is Thermal Paste?
Thermal paste, also known as thermal compound or thermal grease, is a vital component in your computer setup. It's a paste-like substance with high thermal conductivity that helps in transferring heat between the central processing unit (CPU) or graphics processing unit (GPU) and the heat sink.
Why is Thermal Paste Important?
Imagine your CPU as the engine of a car and the heat sink as the radiator. As your CPU operates, it generates heat. If this heat isn't properly transferred away, it can lead to overheating, which in turn can disrupt performance, reduce lifespan, or even cause irreversible damage.
This is where thermal paste steps in. When you apply thermal paste to your CPU, it helps the heat to flow quickly from the CPU to the heat sink. Therefore improving your CPU's performance and longevity.
How to Apply Thermal Paste: Step-by-Step
Now, let's learn how to apply thermal paste like a pro. Here's a step-by-step guide:
1) Preparation: Start by turning off and unplugging your device. You'll want a clean and safe workspace for this operation.
2) Clean the Surfaces: If there's any old thermal paste residue, carefully clean it using isopropyl alcohol and a lint-free cloth. Both the CPU/GPU and the heat sink surfaces should be clean.
3) Pea-Sized Drop: Place a pea-sized drop of thermal paste at the center of the CPU/GPU. Remember, a little goes a long way!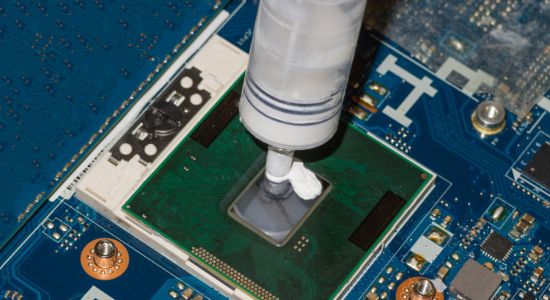 4) Spread it Out: Gently place the heat sink back on the CPU/GPU and apply even pressure. The paste will spread naturally as you secure the heat sink in place.
5) Tighten Screws: Secure the heat sink with screws, ensuring it's snug but not overly tight. This will ensure optimal contact without damaging components.
Tips for Effective Application
1) Less is More: Avoid overusing thermal paste; excess can lead to poor heat transfer.
2) Uniform Spread: If you prefer spreading the paste manually, use a plastic card to create a thin, even layer.
3) Reapply When Necessary: Over time, thermal paste can dry up or degrade. If you notice temperature spikes, it might be time for a reapplication.
How Does Thermal Paste Work?
Now that you've learned how to apply thermal paste, let's dig into how it works its magic. In simple terms, thermal paste fills microscopic gaps and imperfections between the CPU/GPU and the heat sink. These gaps can trap air, hindering efficient heat transfer. The paste's high thermal conductivity ensures a seamless connection, allowing heat to travel quickly from the processor to the heat sink.
Conclusion
There you have it- how to apply thermal paste properly, what it actually is, and how it works. By following the simple steps outlined in the article, you can correctly apply thermal paste and make sure that your devices run smoothly and efficiently, even during the most demanding tasks.
FAQs
Is thermal paste included with CPUs and heat sinks?
Most CPUs and heat sinks come with pre-applied thermal paste. However, investing in high-quality thermal paste can improve heat transfer.
Can I reuse thermal paste?
It's generally recommended to apply fresh thermal paste when reinstalling or upgrading components. Reusing old paste might not provide optimal heat transfer.
Is there a "best" method for applying thermal paste?
The pea-sized method is the most common and effective. Other methods, like spreading the paste manually, can lead to uneven application if not done carefully.
How often should I reapply thermal paste?
Depending on usage, every 1-2 years is a good rule of thumb. If you notice temperature increases or performance drops, it's time to consider reapplication.
Can thermal paste solve overheating issues entirely?
While thermal paste plays a significant role in heat dissipation, other factors like proper ventilation and cooling solutions also contribute to preventing overheating.