How to Build a Gaming PC- A Simple Guide
Building your own gaming PC can help you customize your system parts to suit your choice/ gaming needs and is oftentimes more cost-effective compared to a pre-built system. Moreover, it is not as difficult as it sounds. You do not need to be a computer hardware genius to build a good PC- I am here to help you out. This article discusses a step-by-step guide on "How to build a gaming PC?"
So, if you want to build your own gaming PC, reading this article might help you make a more informed decision.
Benefits of building your gaming PC
Customization: When you build your own gaming PC, you can customize it exactly the way you want. You can choose the components that meet your gaming preferences so that you get the performance, features, and aesthetics you desire.
Cost efficiency: Building your own PC is often times cost efficient. By selecting components that offer the best value for your budget, you avoid paying for pre-built system markups and can spend more of your budget towards high-performance parts.
Easy upgrade: As your gaming needs change, so can your PC. Upgrading individual components such as the graphics card, CPU, or RAM is much easier for custom-build PCs. This means you can stay up-to-date with the latest technology without replacing your entire system.
Quality control: Your gaming experience depends on the quality of your components. When you build your PC yourself, you can research and choose components from reputable brands. This ensures that your system is reliable and durable.
Knowledge gain: Throughout the process of building your PC, you learn more about computer hardware and troubleshooting. This makes you more self-sufficient when it comes to maintenance and upgrades.
Become a Pro Gamer: A powerful PC is your weapon to becoming a Pro Gamer. When you build your PC yourself, you include all those components that are necessary for your gaming profession.
How to Build a Gaming PC- Step-by-step guide
Listed below is a step-by-step guide to building your own gaming PC.
Step 1: Choose Your Components
Selecting the right components is the first and most important step. These are the key parts you'll need: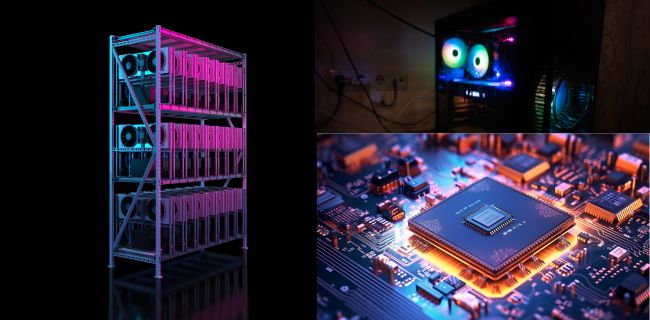 Processor (CPU): This is the brain of your PC. Opt for a powerful CPU for a smoother gaming experience.
Graphics Card (GPU): A high-performance GPU is essential for gaming. Look for one that can handle your favorite games with ease.
Motherboard: A motherboard is the heart of your Gaming PC. Choose a gaming motherboard that offers the features you need. Make sure your CPU and GPU are compatible.
Memory (RAM): Choose at least 16GB of RAM to run games smoothly.
Storage: Consider both SSD and HDD options for faster loading times and ample storage.
Power Supply (PSU): Get a PSU that can provide enough power for your components.
Computer Case: Pick a case that can accommodate your components and offers good airflow.
Cooling Solution: Depending on your CPU and GPU, you might need additional cooling.
Peripherals: Don't forget a monitor, keyboard, and mouse.
Step 2: Assemble Your Tools
Gather your tools, including a screwdriver, anti-static wristband, and cable ties. These will come in handy during assembly.
Step 3: Assemble the Gaming PC
Now comes the fun part of assembling the parts. Follow these steps to put your gaming PC together:
Place the motherboard in the case and secure it.
Install the CPU and attach the CPU cooler.
Connect the power supply and other necessary cables.
Double-check all connections.
Step 4: Install Operating System and Drivers
Once you have assembled your gaming PC, you'll need to install an operating system (e.g., Windows) and drivers for your components. This is a crucial step to ensure everything works correctly.
Note- You can even add two different operating systems to your one single computer.
Step 5: Configure Your Gaming PC
Now that your gaming PC is ready, it's time to fine-tune it for optimal performance. This may involve adjusting graphics settings, installing game launchers, and optimizing in-game options.
Important Tips to Keep in Mind While Building a PC
Research component compatibility and create a budget.
Use an anti-static wristband to prevent ESD.
Work in a clean and well-lit area.
Read component manuals for guidance.
Handle the CPU delicately, avoiding pin contact.
Apply an appropriate amount of thermal paste.
Organize cables for good airflow and aesthetics.
Power off and unplug before the hardware changes.
Secure screws properly but don't overtighten.
Ensure the GPU clicks securely into the PCIe slot.
Keep component warranties and receipts.
Conclusion
In this article, you have learned in detail "How to build a gaming PC from scratch?"
Building your own PC is not as difficult as it sounds. With the right components and a little patience, you can easily build your own gaming PC.
Remember to choose your components correctly. Choose the ones that align with your needs and preferences. Once you have your components ready, assemble them. Be gentle with the process. Finally, install the O.S. and drivers and configure your system.
FAQs
Is building a gaming PC cheaper than buying a pre-built one?
Building your gaming PC is cost-effective since you choose components that match your budget and needs.
How long does it take to build a gaming PC?
The time it takes varies, but with experience, it can be done in a few hours.
Can I upgrade my gaming PC later?
Yes, one of the advantages of building your own PC is that it's easier to upgrade individual components as needed.
Do I need to overclock my CPU or GPU for gaming?
Not necessarily. Most games run well without overclocking, but it can provide a performance boost if done correctly.
Are there any risks involved in building a gaming PC?
There's a slight risk of damaging components if not handled carefully, but following instructions and taking precautions reduces this risk significantly.