How to Clean the Motherboard
Motherboards are, undoubtedly, the heart and soul of your computer, making sure that they deliver the best performance to users. But, just like any other machine/component, dust, dirt, and grime can accumulate over time on the motherboard. Hence, it becomes essential to clean it from time to time. But how to Clean the Motherboard? What solution should you use to clean it? In this article, we shall discuss it all.
So, let's quickly dive in.
Why is it important to Clean the Motherboard?
Choosing the right motherboard is an important task. What is more important is to clean it from time to time.
The motherboard is home to sensitive electronic components, and any accumulation of dust and dirt can lead to overheating and decreased performance. By keeping it clean, you can prevent these overheating issues and make sure your computer is working at its full capacity.
How to Clean the Motherboard: Step-by-step guide
Listed below are three methods to clean your motherboard the right way. Follow each method step-by-step, and you will be able to clean your motherboard correctly.
Step 1: Prepare Your Workspace
Turn off and unplug your computer from the power source.
Ensure you're working in a clean and well-ventilated area to avoid spreading dust further.
Step 2: Cleaning the Motherboard
You can clean your motherboard by following any of these methods:
Method 1: Using Compressed Air and Brush
This method is suitable for routine maintenance and dust removal.
You'll need a can of compressed air and a soft brush. Optionally, an anti-static wrist strap can be used to prevent static discharge.
Remove the side panel of your computer case to access the motherboard.
Hold the can of compressed air upright.
Gently blow away dust and debris from the motherboard's surface, paying attention to areas like fan blades, heat sinks, and expansion slots.
Use the soft brush to sweep away any remaining dust or particles. Be gentle and avoid applying excessive pressure.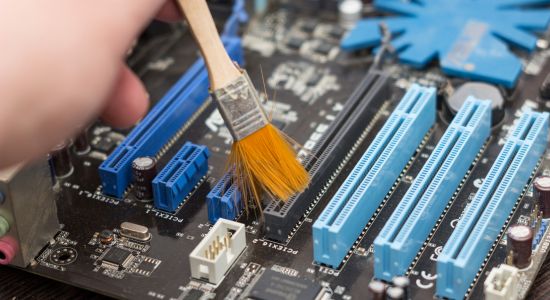 Method 2: Using Isopropyl Alcohol
This method is suitable for removing stubborn stains and grime.
You'll need isopropyl alcohol (at least 90% concentration), a lint-free cloth, and, optionally, a soft brush and anti-static wrist strap.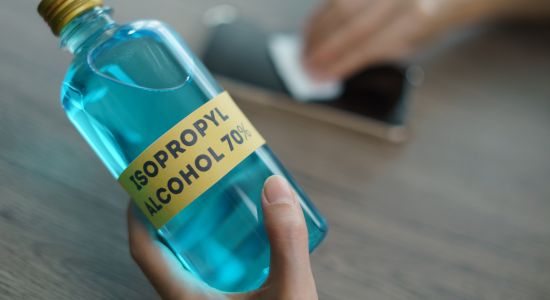 Remove the side panel of your computer case to access the motherboard.
Dampen a lint-free cloth with isopropyl alcohol.
Carefully wipe the motherboard's surface to remove any stubborn residue or grime. Ensure the cloth is not dripping wet.
For hard-to-reach areas, you can use a soft brush dipped in isopropyl alcohol.
Allow the motherboard to air dry completely before reassembling your computer.
Method 3: Dishwasher Cleaning (Advanced)
This method is for experienced users who want a thorough cleaning but involves risks and should only be used as a last resort.
Completely disassemble your computer, removing the motherboard, CPU, and other components.
Disconnect any batteries or CMOS batteries from the motherboard.
Inspect the motherboard for any non-removable components or stickers that could be damaged during cleaning. Remove these if possible.
Place the motherboard in the top rack of a dishwasher.
Use a gentle, eco-friendly dishwasher detergent. Ensure no other dishes are present in the dishwasher.
Run the dishwasher on a gentle cycle with cold water. Avoid using heat drying.
Allow the motherboard to air dry for several days in a dry, dust-free environment.
Please note that the dishwasher method is a last resort and should be used with caution. It can cause irreversible damage if not done correctly. Always prioritize the other two methods for routine cleaning and maintenance.
Step 3: Reassemble and Test
Properly reassemble your computer, ensuring all components are securely connected. Power it on and check for any improvements in performance or temperature.
Common Mistakes to Avoid
Cleaning your motherboard is a simple process, but there are some common mistakes to avoid:
Excessive Force: Don't use excessive force when cleaning; delicate components can be damaged easily.
Moisture: Ensure your motherboard is completely dry before reconnecting it to the power source.
Skipping Safety Precautions: Always wear an anti-static wrist strap and take precautions to prevent static discharge.
Conclusion
You've successfully learned how to clean the motherboard. Following the steps outlined in this article, you'll be able to clean your motherboard fully. Remember, cleaning and regular maintenance can significantly extend the life of your computer and keep it running smoothly.
FAQs
How often should I clean my motherboard?
It's recommended to clean your motherboard every 6 to 12 months or if you notice a drop in performance.
Can I use a vacuum cleaner to remove dust from the motherboard?
No, using a vacuum cleaner can generate static electricity and potentially damage your motherboard. Stick to compressed air and brushes.
Is it safe to use isopropyl alcohol on the motherboard?
Yes, isopropyl alcohol is safe for cleaning motherboards as long as you use it sparingly and ensure the motherboard is dry before powering it on.
Can I clean the motherboard without removing it from the computer case?
It's best to remove the motherboard from the case for a thorough cleaning, but you can do some cleaning in place if necessary.
What if I accidentally damage a component while cleaning the motherboard?
If you damage a component, consider replacing it or seeking professional help to avoid further issues.