How to Delid Your Processor and Why It's Worth It
Wondering why delidding is such a hot topic in the tech community? What is delidding exactly, and how to delid your processor? What are its benefits and risks? This article discusses it all. So, without further ado, let's quickly dive in.
What is Delidding?
Delidding is the process of removing the Integrated Heat Spreader (IHS) from your CPU. The IHS is a protective cover that sits on top of the actual processor chip and is responsible for dispersing heat. When you delid your processor, you gain direct access to the CPU die, allowing for better thermal performance.
Why Delid, Your Processor?
The main reason to delid your processor is to improve thermal conductivity. The IHS, while protective, can hinder heat transfer between the CPU die and the cooling solution, such as a heat sink or liquid cooler. By removing the IHS and replacing the thermal paste, you can significantly lower temperatures and achieve higher overclocks.
Moreover, delidding can also increase the lifespan of your CPU by preventing overheating and thermal throttling. If you're a gamer or content creator, delidding will help you get smoother performance and faster rendering times.
How to Delid Your Processor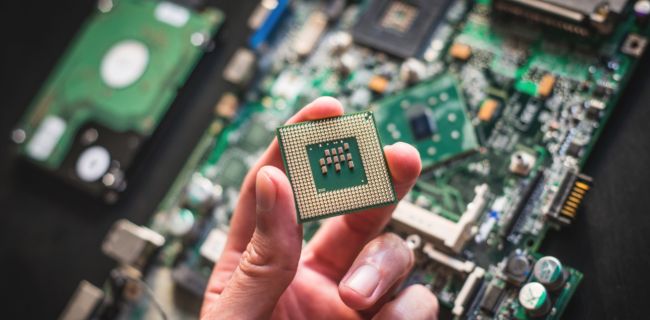 Before we proceed, please keep in mind that delidding your processor will void your warranty, and there are risks involved.
Listed below is a step-by-step guide to delidding your CPU:
1. Gather Your Tools: You'll need a delidding tool or kit designed for your specific CPU model, isopropyl alcohol, thermal paste, and a steady hand.
2. Prepare the Workspace: Find a clean, well-lit workspace, and ensure you have all the tools within reach.
3. Remove the CPU: Take your CPU out of the motherboard and place it on the delidding tool. Follow the instructions provided with the tool carefully.
4. Delid the CPU: Use the tool to remove the IHS carefully. This process requires precision and patience, so take your time.
5. Clean the CPU: Use isopropyl alcohol to clean the CPU die and the underside of the IHS.
6. Apply Thermal Paste: Carefully apply thermal paste to the CPU die. Make sure it is evenly covered.
7. Reassemble: Carefully place the IHS back on the CPU die and reseat the CPU in your motherboard.
8. Test: Boot up your system and monitor temperatures. You should notice improved thermal performance.
Risks and Considerations
While delidding has significant benefits, it's important to be aware of the risks involved.
Mishandling the process can lead to permanent CPU damage, and you'll lose your warranty. Moreover, not all CPUs are created equal, and some may not see as much of a temperature drop as others.
Conclusion
In this article, you've learned " how to delid your processor"- a detailed step-by-step guide, along with its benefits and risks. If you're confident in your skills and understand the risks, delidding might be worth considering.
Remember that every CPU is different, and results may vary. If you're uncertain about delidding, it's always a good idea to seek advice from experienced professionals.
FAQs
Is delidding my processor safe?
Delidding comes with risks, and it can void your warranty. If you're inexperienced or unsure, it's best to consult with experts or consider alternative cooling solutions.
Can delidding improve gaming performance?
Yes, delidding can lead to lower temperatures, potentially allowing for higher overclocks and smoother gaming experiences.
Which CPUs benefit the most from delidding?
CPUs with poor thermal conductivity between the IHS and the die tend to benefit the most from delidding. Research your specific CPU model for more information.
What tools do I need for delidding?
You'll need a delidding tool or kit designed for your CPU model, isopropyl alcohol, thermal paste, and a clean workspace.
Will delidding my processor void the warranty?

Yes, delidding typically voids the warranty of your CPU. Make sure you're willing to accept this before proceeding.