How Often Should You Reapply Thermal Paste?
Are you wondering how often you should reapply thermal paste to your CPU? Are you confused about how to know that it's finally time to clean your thermal paste and reapply? This article discusses it all. 
So, let's dive into the topic at hand: how often should you reapply thermal paste?
How Often Should You Reapply Thermal Paste?
Thermal paste, often referred to as thermal compound, is that magical substance that bridges the gap between your CPU, GPU, or other heat-producing components and their respective coolers. It ensures efficient heat transfer, preventing overheating and potential damage.
Signs That It's Time to Say Goodbye to Old Paste
Imagine this: you're in the middle of an intense gaming session, and suddenly, your system starts lagging. Your CPU temperatures are rising, and you're left wondering, "What's going on?" This might just be a sign that your thermal paste is worn out. Over time, thermal paste can dry out, lose its effectiveness, and cause poor heat dissipation.
Factors That Affect Thermal Paste Longevity
You might be wondering, "How often should I worry about this?" Well, several factors influence how long your thermal paste will hold up.
First off, let's talk about usage. If your computer is working around the clock, churning out tasks that push your hardware to its limits, the thermal paste might degrade faster. On the other hand, if you use your system more casually, the paste might last longer.
Another factor is the quality of the thermal paste you initially applied. High-quality thermal compounds tend to have a longer lifespan compared to budget options. Also, your environment matters. If you live in a hot and humid climate, your thermal paste might dry up quicker than in a cooler setting.
How to reapply thermal paste: Step-by-step guide
1) Gather Your Tools: You'll need isopropyl alcohol, a lint-free cloth, and, of course, your new thermal paste.
2) Prepare Your Workspace: Power down your system, unplug it, and open up your case in a well-lit area.
3) Clean the Components: Gently remove the old paste using isopropyl alcohol and the lint-free cloth. Ensure no residue is left.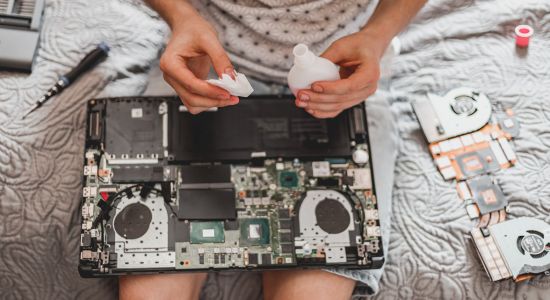 4) Apply New Paste: Applying a small pea-sized drop of thermal paste in the center of your CPU/GPU is sufficient.
5) Reattach Cooler: Carefully place the cooler back on the component and tighten it evenly.
Conclusion
Thermal paste might not be the star of the show, but it plays a vital role in keeping your hardware running smoothly. Reapplying thermal paste every couple of years can make a significant difference in your system's performance and longevity. Remember, it's all about finding that sweet spot between proactive maintenance and unnecessary fuss.
FAQs
How do I know if my thermal paste needs replacing?
Watch out for unusually high temperatures during normal tasks, system slowdowns, or if it's been a couple of years since you last reapplied it.
Can I use any thermal paste?
While you have choices, it's recommended to go for a reputable brand known for its thermal conductivity and longevity.
Can I apply too much thermal paste?
Yes, applying too much can lead to poor heat transfer. Stick to a small, pea-sized amount for best results.
Is thermal paste application the same for laptops?
The process is similar, but laptop disassembly can be trickier. Consider professional help if you're uncomfortable doing it yourself.
Can I reapply thermal paste too often?
Reapplying it too frequently might actually do more harm than good. Stick to the recommended timeframe of a couple of years.