How to Remove a Swollen Battery from Your Laptop
Laptops have become an important part of our daily lives, and with heavy usage, their batteries start to get affected. There might come a time when you notice that your laptop's battery is swollen. This is obviously risky, both for you and your laptop. But how to remove a swollen battery from your laptop? In this article, we'll discuss the same.
So, without any further ado, let's jump in.
Signs of a Swollen Laptop Battery
Before we start with the removal process, it's important to identify the signs of a swollen battery. If the battery is swollen, your laptop's case might seem bulging out, or you may notice:
An unusual Shape: The laptop's bottom or back panel may appear distorted or raised.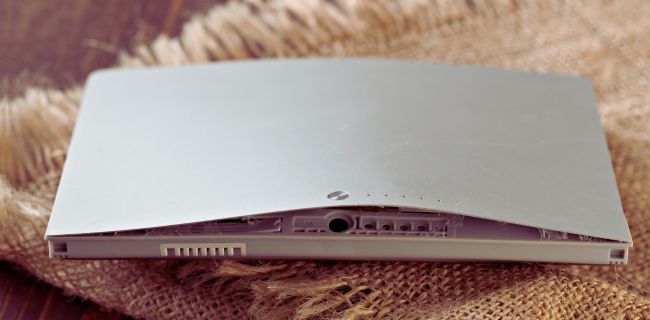 Difficulty Closing: You might find it hard to close your laptop properly due to the bulging battery.
Decreased Performance: A swollen battery can lead to decreased laptop performance and unexpected shutdowns.
Overheating: Your laptop may become unusually hot during usage.
If you observe any of these signs, it's probably a swollen battery that needs quick replacement.
How to Remove a Swollen Battery from Your Laptop
Safety Precautions Before Removal
Listed below are some precautions to take before you begin the battery removal process:
Power Off: Ensure your laptop is powered off and disconnected from any external power source.
Static Electricity: Discharge any static electricity by touching a grounded object, like a metal doorknob.
Work on a Clean Surface: Place your laptop on a clean, flat surface with ample lighting to see what you're doing.
Tools You'll Need
To safely remove a swollen battery, you'll need the following tools:
Screwdriver Set: To open your laptop's casing.
Anti-static Wrist Strap: To prevent static discharge that can damage sensitive components.
Plastic Spudger or Pry Tool: For gently prying open the laptop casing.
Replacement Battery (Optional): If you plan to replace the swollen battery with a new one.
Step-by-Step Guide to Safely Remove a Swollen Battery
Here's the process of safely removing a swollen battery from your laptop:
Step 1: Remove Screws
Locate and remove the screws that secure the laptop's back panel. These screws are usually around the edges of the casing. Keep the screws in a safe place, as you'll need them later.
Step 2: Open the Casing
Carefully use a plastic spudger or pry tool to open the laptop's casing gently. Start from one corner and work your way around. Be patient and cautious not to damage the laptop's plastic casing or any internal components.
Step 3: Disconnect the Battery
Once the casing is open, locate the swollen battery. It's usually connected to the motherboard with a cable. Carefully disconnect the cable from the battery. Ensure you're pulling gently and in the right direction.
Step 4: Remove the Battery
With the cable disconnected, gently lift the swollen battery out of its compartment. Place it in a safe, cool, and dry location away from direct sunlight.
Step 5: Inspect for Damage
Before proceeding, inspect the laptop's interior for any damage caused by the swollen battery. If you notice any damage, it's advisable to consult a professional for repairs.
What to Do After Battery Removal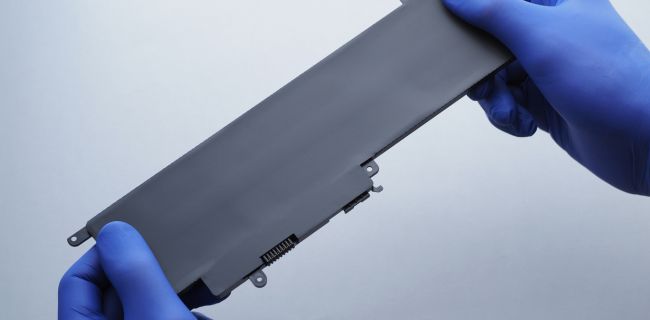 After successfully removing the swollen battery, you can:
Replace with a New Battery: If you have a replacement battery, carefully install it by following the steps in reverse order.
Operate on AC Power: If you don't have a replacement battery, you can continue using your laptop by plugging it into an AC power source.
Recycle the Old Battery: Ensure you dispose of the swollen battery properly. Many electronics stores or recycling centres accept old laptop batteries.
Troubleshooting tips
Battery Not Charging: Check the charger connection, inspect the charging port, and restart the laptop.
Battery Draining Quickly: Close unused apps, reduce screen brightness, and check battery health.
Laptop Overheating: Clean ventilation ports, use a cooling pad, and avoid high-performance modes.
Battery Not Recognized: Update drivers, reset BIOS settings, or consider a battery replacement.
Random Shutdowns: Update software, monitor temperature, and run built-in diagnostics.
Conclusion
In this guide, I've walked you through the process of safely removing a swollen battery from your laptop. Remember to prioritize your safety by following precautions and using the right tools. Whether you choose to replace the battery or operate your laptop on AC power, addressing a swollen battery promptly is essential to prevent further damage to your laptop and ensure your safety.
FAQs
Can a swollen laptop battery explode?
While it's rare, a swollen battery can potentially rupture or leak, leading to safety hazards. Hence, it's crucial to handle it with care.
Can I continue using my laptop with a swollen battery?
It's not recommended to use your laptop with a swollen battery, as it can cause further damage to your device and potentially pose safety risks.
How can I prevent my laptop battery from swelling?
To prevent battery swelling, avoid extreme heat, overcharging, and using incompatible chargers. Also, ensure your laptop's ventilation is unblocked.
Is it possible to repair a swollen battery?
Swollen batteries are usually not repairable. It's best to replace them with new ones.
How do I dispose of a swollen laptop battery safely?
To dispose of a swollen laptop battery safely, take it to a recycling centre or an electronics store that accepts old batteries for proper disposal. Do not throw it in the trash.