While most people focus on overclocking to boost performance, some intend to slow down their computers. But why do people underclock their PCs? How do they do so, and how does it help?
This article discusses "how to underclock a PC" and the benefits and risks involved in the process.
What is PC Underclocking?
Before we start with the underclocking process, let's first understand what it means. In simple terms, underclocking is the process of intentionally reducing your computer's CPU or GPU clock speed.
When your PC is underclocked, it runs at a lower speed than its maximum capabilities. This can help conserve energy, reduce heat generation, and even extend the lifespan of your components. It's like driving your car in economy mode to save fuel.
Why Underclock Your PC?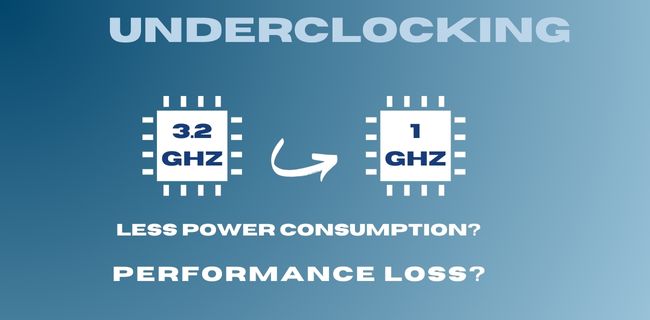 You might be thinking, "Why would anyone slow down their computer intentionally?"
Well, underclocking has several significant benefits:
Energy Efficiency: Underclocking reduces power consumption, making your PC more environmentally friendly and cheaper to run.
Heat Reduction: Overheating can damage your components and decrease performance. Underclocking helps keep temperatures in check.
Silent Operation: Slower clock speeds mean less fan noise, making your PC quieter, which can be great for a peaceful work environment.
Extended Lifespan: Running your hardware at lower speeds can increase its longevity, saving you money on replacements.
How to Underclock a PC
Underclocking a PC is not at all complicated, and using the steps given below, you can easily underclock your system.
1. Access BIOS/UEFI
Restart your computer and access the BIOS or UEFI settings. You can usually do this by pressing a specific key during startup, such as F2, Del, or F12.
2. Find CPU/GPU Settings
Navigate to the CPU or GPU settings in the BIOS/UEFI. Look for options like "Clock Speed," "Multiplier," or "Frequency."
3. Adjust Clock Speed
Depending on your motherboard, you can adjust the clock speed by percentage or specific values. Reduce it gradually to your desired level.
4. Test
Save your changes and reboot your PC. Monitor its stability and temperatures. If it becomes unstable or too hot, revert to the default settings.
5. Repeat
You can fine-tune the clock speed to balance performance and efficiency. Experiment and find the sweet spot for your needs. Once you're satisfied, save your settings in the BIOS/UEFI.
Benefits of underclocking your PC:
Lower Power Consumption
Keeps your CPU and GPU within safe temperature limits.
Quieter Operation
Extended Hardware Lifespan
Risks:
Performance Loss: Underclocking will decrease your PC's performance, so it's not suitable for gaming or resource-intensive tasks.
Compatibility Issues: Some software may not function correctly at reduced clock speeds.
Conclusion
In this article, you've learned "How to underclock a PC?"
By following the steps outlined, you can safely underclock your PC to save energy, reduce heat, and increase the lifespan of your components.
Overclocking your PC has several benefits, but if you do not need such a high level of performance, you can opt for underclocking to save the life of your PC components.
While underclocking has several benefits, it comes with its own share of risks. Be aware and be careful.
FAQs
Is underclocking reversible?
Yes, you can easily revert to default clock speeds in your BIOS/UEFI settings if you decide to go back to normal operation.
Can underclocking improve laptop battery life?
Absolutely! Underclocking can extend the battery life of laptops, making them run longer on a single charge.

Will underclocking help with noisy fans?
Yes, underclocking reduces the heat generated, which can lead to quieter fan operation.
Can I underclock my graphics card for less power consumption?
Yes, GPUs can be underclocked to reduce power usage and heat, but this may affect gaming performance.
Is underclocking suitable for all PCs?
No, it's best for specific use cases like HTPCs (Home Theater PCs), servers, or when you prioritize efficiency over performance. High-performance tasks like gaming may not benefit from underclocking.