5 Things to Do with New Gaming PC
Hey there! Have you bought a new Gaming PC and are wondering what to do with it- how to customize the right settings and how to maintain it? Don't worry. In this article, I'll guide you through the 5 most important things to do with new gaming pc. From setting up to maintenance, I've got you covered.
So, without further delay, let's quickly jump in!
5 Things to Do with New Gaming PC
Listed below are the five things to do with new gaming PC:
1. Set Up Your Gaming PC
a) Unboxing and Assembly
Alright, let's get started with the basics. Unbox that treasure carefully, like a kid unwrapping gifts on Christmas morning. Lay out all the components and read through the user manual. Assemble your PC like a pro builder – it's like adult LEGO!
b) Connecting Peripherals
Now, I know you're eager to play, but don't forget to connect your peripherals. Plug in that high-DPI gaming mouse and mechanical keyboard. It's like setting up your battle station for an epic gaming conquest.
2. Install Essential Software
a) Operating System
You've got the hardware locked down, but now you need the software. Install your preferred operating system – whether it's Windows, Linux, or macOS. It's like choosing the foundation for your virtual gaming realm.
b) Graphics Drivers
Next up, grab those graphics drivers. It's like giving your PC a pair of glasses to see all the pixels in glorious detail. Update your GPU drivers to ensure your games run buttery smooth.
c) Gaming Platforms
Time to install your favorite gaming platforms. Steam, Epic Games Store, or others – it's like building your own digital playground. Download and organize your games library for easy access.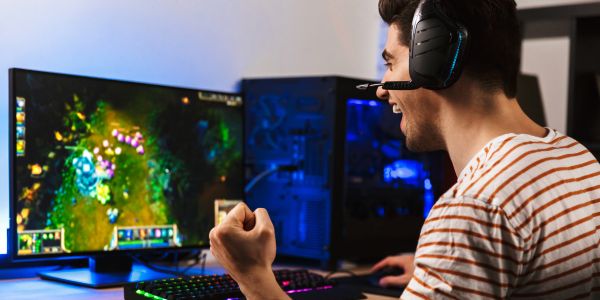 3. Customize Settings
a) Graphics and Display
Alright, let's talk visuals. Dive into your game settings and tweak those graphics options. Crank up the resolution, adjust the shadows, and enable ray tracing if your PC can handle it. It's like tailoring your gaming experience to match your personal taste.
b) Keyboard and Mouse
Now, let's get that input just right. Customize your keyboard shortcuts and mouse sensitivity. It's like fine-tuning your instruments before a grand performance. Find the settings that make you feel like a gaming maestro.
4. Explore Game Libraries
a) Single-player Games
Time to dive into your game library! Start with some immersive single-player titles. Lose yourself in captivating stories and stunning worlds. It's like embarking on a solo adventure in a fantastical realm.
b) Multiplayer and Online
But gaming is not just a solo journey. Join the multiplayer scene and team up with friends or challenge strangers worldwide. It's like entering a bustling virtual arena where your skills shine, and camaraderie thrives.
5. Maintain Your System
a) Regular Updates
Your gaming PC, like any machine, needs some TLC. Keep your operating system and drivers updated. It's like giving your rig a dose of vitamins to keep it running at peak performance.
b) Cooling and Cleaning
Ah, yes, the cooling dance. Ensure your PC stays cool by cleaning dust filters and optimizing airflow. It's like pampering your machine with a relaxing spa day. A cool PC is a happy PC.
Conclusion
And there you have it, folks! Your journey with your new gaming PC has begun. From setting up to exploring immersive worlds and maintaining your system, you're ready to conquer the gaming universe. Remember, your PC is not just a machine; it's your portal to adventures, challenges, and unforgettable memories.
FAQs
1. Can I use my gaming PC for tasks other than gaming?
Absolutely! Your gaming PC is a versatile beast. You can use it for content creation, streaming, video editing, and more. It's like having a Swiss Army knife of technology.
2. How often should I clean my PC for optimal performance?
Regular cleaning every few months is a good practice. It's like giving your PC a breath of fresh air to ensure it runs smoothly.
3. What's the best way to prevent overheating during intense gaming sessions?
Invest in proper cooling solutions like fans and heatsinks. Also, make sure your PC has good ventilation. It's like ensuring your PC stays chill even during the hottest battles.
4. Can I upgrade components in my gaming PC in the future?
Absolutely! One of the beauties of PC gaming is the ability to upgrade components like the GPU, RAM, and storage. It's like giving your PC a boost of superpowers to keep up with the latest gaming trends.
5. How do I choose the right monitor for my gaming setup?
Consider factors like resolution, refresh rate, and response time. It's like finding the perfect window to peer into your virtual worlds with clarity and smoothness.