Ever wondered how video games and computer graphics achieve those stunning realistic lighting and reflections? Well, you guessed it right- it's Ray Tracing. But what exactly is Ray Tracing? How does it work? What are its benefits and challenges? Does it have a future? I will answer all of these in this article.
So, without further delay, let's jump in.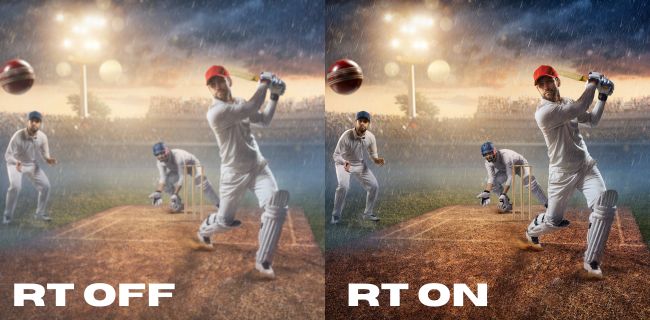 What is Ray Tracing, and how does it work? A detailed guide.
Ray tracing is a rendering technique used in computer graphics to simulate the way light interacts with objects in a virtual environment. It's like a digital version of how light behaves in the real world.
Ray tracing involves observing how light rays reflect, refract, and cast shadows to create realistic images with lifelike lighting, shadows, and reflections. With its exceptional visual experience, this technology has revolutionized the gaming, film, and design industries.
Working:
Imagine you're in a room with a window on a sunny day. Sunlight enters the room and bounces off various objects before reaching your eyes. Ray tracing mimics this process by simulating individual rays of light. Listed below is the step-by-step process of ray tracing in technical terms:
Ray Generation: When you play a game or render an image, the software shoots out millions of virtual rays from your virtual camera into the scene.
Intersection: Each ray travels until it hits an object in the virtual world. When it does, the software calculates how the ray interacts with the object's surface.
Reflection and Refraction: If the ray hits a shiny surface, like water or a mirror, it can bounce off (reflection) or pass through (refraction), creating realistic effects.
Shadows and Global Illumination: Rays also help determine which parts of the scene are in shadow and how light bounces off surfaces to illuminate others, giving depth and realism.
Ray Tracing in Gaming:
Ray tracing in gaming takes visuals to the next level. It adds a level of realism that was previously unimaginable.
Imagine playing a game where the water reflects the surrounding landscape perfectly or where shadows cast accurate, dynamic shapes depending on the angle and intensity of the light source. This is what ray tracing brings to the table. It immerses you in a lifelike world where light behaves realistically.
Well, you can also consider increasing the FPS to further enhance your gaming experience.
Ray Tracing in Graphics:
Ray tracing isn't just for gaming; it's also a game-changer in the world of computer graphics and animation. In industries like film and architecture, where realistic visuals are essential, ray tracing is a must-have tool.
Architects can create photorealistic renderings of buildings with accurate lighting and shadow effects. Movie studios can produce stunning CGI scenes that seamlessly blend with live-action footage. It's a versatile technique that elevates visual storytelling to new heights.
Benefits, Challenges, and The Future of Ray Tracing
Below are some of the benefits of ray tracing:
Realism: It makes virtual worlds look incredibly realistic, with accurate lighting, shadows, and reflections.
Immersiveness: In gaming, it enhances immersion by creating a more believable environment.
Industry Applications: It's not just for games; it's a game-changer in architecture, film, and other visual industries.
Future-Proofing: As hardware becomes more powerful, ray tracing will become even more prevalent in graphics and gaming.
Artistic Freedom: It gives artists and designers more control over how they portray their creations.
Challenges:
Hardware Demands: Achieving real-time ray tracing requires powerful hardware, which can be expensive.
Development Complexity: Implementing ray tracing in games and applications can be technically challenging and time-consuming.
The Future of Ray Tracing:
The future of ray tracing looks promising. As hardware continues to advance and become more affordable, we can expect to see even more widespread use of this technology. This means increasingly realistic graphics and immersive experiences for all of us.
Conclusion
You've learned it all: What is Ray Tracing, how does it work, and what are its benefits, challenges, and future?
Ray tracing is a remarkable technology that mimics the behavior of light in virtual environments, offering a level of realism and immersion that was once a dream. Whether you're a gamer, a designer, or a filmmaker, ray tracing has something incredible to offer. It's a bright future for visual storytelling and gaming.
FAQs
Is ray tracing only for high-end gaming PCs?
No, ray tracing is becoming more accessible, with support for a wider range of hardware, including gaming consoles.
Does ray tracing impact gaming performance?
Yes, ray tracing can be demanding on your hardware, but it also depends on the quality of ray tracing effects and your GPU's capabilities.
Are there any downsides to ray tracing?
Ray tracing can be computationally intensive, and not all games or software support it. Additionally, enabling ray tracing may reduce your frame rate.
Can ray tracing be used in 2D graphics and applications?
While ray tracing is primarily used for 3D environments, some applications use it to enhance 2D graphics and achieve realistic lighting effects.
Is Ray tracing the future of graphics and gaming?
It certainly seems that way. As hardware advances, ray tracing will become more prevalent, leading to even more stunning visuals in games and other applications.