Thunderbolt 4 is a cutting-edge technology that's shaking up the PC hardware and gaming scene. In this article, you shall learn "What is Thunderbolt 4?", its features, benefits, and how it transforms gaming PCs and hardware. So, without further delay, let's quickly dive in.
What is Thunderbolt 4 Technology?
Before we jump into the specifics of Thunderbolt 4, let's take a quick look at the evolution of this remarkable technology. Initially developed by Intel in collaboration with Apple, Thunderbolt was introduced as a high-speed data transfer and display interface. It brought lightning-fast speeds, impressive versatility, and the ability to daisy-chain multiple devices, all in a single compact port. Thunderbolt 3, the predecessor to Thunderbolt 4, was a game-changer with its whopping 40 Gbps data transfer rate and support for 4K displays.
Evolution of Thunderbolt 4
So, what's new with Thunderbolt 4? Well, it's all about refinement and optimization. Thunderbolt 4 builds upon the foundation laid by its predecessors and takes connectivity to a whole new level. With Thunderbolt 4, Intel has further fine-tuned the technology, enhancing its features and capabilities to cater to modern computing and gaming demands.
Thunderbolt 4 Features and Benefits
Listed below are the features and benefits of Thunderbolt 4:
1. Blazing Fast Data Transfer Speeds
Thunderbolt 4 continues to impress with its mind-boggling data transfer speeds of up to 40 Gbps. This means you can effortlessly transfer large files, back up your data, or edit high-resolution videos in a flash. Imagine transferring a 4K movie in mere seconds – Thunderbolt 4 makes it possible.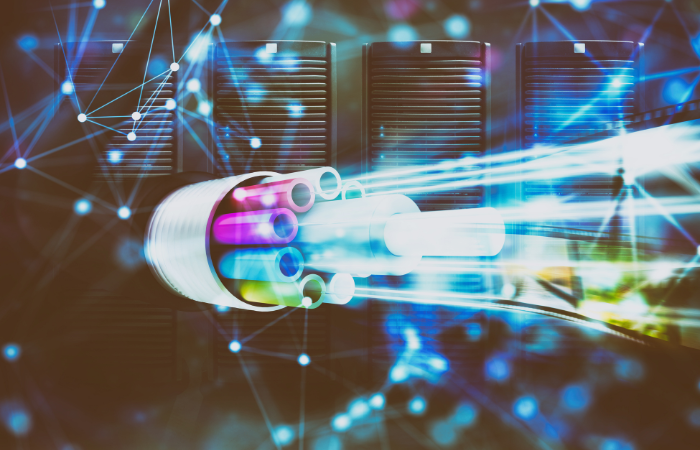 2. Versatility and Compatibility
One of Thunderbolt 4's standout features is its support of various peripherals and devices. Whether you're connecting external hard drives, monitors, docking stations, or even eGPUs (external graphics processing units), Thunderbolt 4 ensures seamless compatibility and effortless multitasking.
3. Power Delivery and Charging Capabilities
Say goodbye to juggling multiple chargers. Thunderbolt 4 not only delivers data and video but also provides up to 100W of power delivery. This means you can charge your laptop, smartphone, and other devices using a single Thunderbolt 4 cable – talk about convenience!
4. Daisy-Chaining for Enhanced Connectivity
The daisy-chaining feature of Thunderbolt 4 enables you to connect multiple devices in a series, creating a streamlined and clutter-free setup. This is a boon for creators, professionals, and gamers alike, allowing for a clean and organized workspace.
5. Enhanced Video and Audio Capabilities
With Thunderbolt 4, you're in for a treat regarding visuals and sound. It supports up to two 4K or 8K displays, delivering stunning graphics for work and play. Moreover, Thunderbolt 4 ensures high-fidelity audio, making it a dream for audiophiles and content creators.
Real-life Testing and Experiments
To truly understand the impact of Thunderbolt 4, I decided to put it to the test myself. I conducted a series of experiments to evaluate its performance in various scenarios:
1. Benchmarking Data Transfer Speeds
In my first experiment, I compared the data transfer speeds of Thunderbolt 4 with other connectivity options. The results were jaw-dropping. Transferring a 10GB file took mere seconds with Thunderbolt 4, while other interfaces struggled to keep up.
2. Multi-Device Connectivity Test
Next, I wanted to see how well Thunderbolt 4 handled multiple devices connected simultaneously. I hooked up an external SSD, a 4K monitor, and a keyboard, all through a single Thunderbolt 4 port. Not only did everything work flawlessly, but I also noticed zero lag or performance hiccups while multitasking between applications.
3. Power Delivery Efficiency Test
To assess Thunderbolt 4's power delivery capabilities, I charged my laptop and smartphone simultaneously using a Thunderbolt 4 cable. Both devices charged rapidly, and I could work on my laptop while keeping my phone juiced up – a convenient setup for a busy day.
4. Audio-Visual Performance Evaluation
Being a gaming enthusiast, I couldn't resist testing Thunderbolt 4's impact on gaming experiences. I connected an external GPU to my laptop through Thunderbolt 4 and fired up a demanding AAA game. The graphics were incredibly smooth, and the reduced latency was noticeable – a true game-changer for competitive gaming.
How Thunderbolt 4 Transforms Gaming and PC Hardware
Now, let's talk about how Thunderbolt 4 is revolutionizing the gaming and PC hardware landscape:
1. Seamless External GPU Integration
Gaming enthusiasts and content creators alike can rejoice as Thunderbolt 4 opens the door to seamless external GPU integration. This means you can transform your lightweight laptop into a gaming powerhouse by connecting an external graphics card. Say goodbye to being tied down by your laptop's onboard GPU – Thunderbolt 4 sets you free.
2. High-Fidelity Audio and Visuals
Immersive audio and visuals are essential for an unparalleled gaming experience. Thunderbolt 4's support for high-resolution displays and top-notch audio ensures you'll see and hear every detail in your games. Whether you're exploring a fantasy world or battling on the virtual battlefield, Thunderbolt 4 elevates the sensory experience.
3. Reduced Latency for Gamers
In the world of gaming, milliseconds matter. Thunderbolt 4's lightning-fast data transfer and reduced latency make it a fantastic choice for gamers who demand precision and responsiveness. Say goodbye to frustrating lag and hello to a more immersive and competitive gaming environment.
Conclusion
Thunderbolt 4 stands as a shining example of innovation in the ever-evolving realm of PC hardware and gaming. With its blazing data transfer speeds, versatile connectivity options, and power-packed capabilities, Thunderbolt 4 redefines how we interact with our devices. As someone who lives and breathes technology, I can confidently say that Thunderbolt 4 is a game-changer that's here to stay.
So, whether you're a content creator looking to streamline your workflow, a professional seeking versatile connectivity, or a gamer hungry for lightning-fast performance, Thunderbolt 4 has something extraordinary to offer. Embrace the future of connectivity and elevate your computing experience with Thunderbolt 4.
FAQs
Is Thunderbolt 4 backwards compatible with Thunderbolt 3 devices?
Absolutely! Thunderbolt 4 ports are fully compatible with Thunderbolt 3 devices, ensuring a seamless transition and continued usability.
Can I use Thunderbolt 4 for charging devices other than laptops?
Thunderbolt 4's power delivery capabilities extend to various devices, including smartphones, tablets, and accessories.
What's the maximum cable length for Thunderbolt 4 connections?
Thunderbolt 4 supports cable lengths of up to 2 meters, providing flexibility while maintaining optimal performance.
Can Thunderbolt 4 enhance audio quality for music production?
Indeed, Thunderbolt 4's high-fidelity audio capabilities make it an excellent choice for musicians and producers seeking pristine sound quality.
How does Thunderbolt 4 compare to USB-C in terms of speed and performance?
While USB-C offers impressive versatility, Thunderbolt 4 outshines it regarding data transfer speed, display capabilities, and power delivery.