Hey there, tech enthusiasts! Are you wondering to know what is WiFi 7 and what's all the buzz about it? As a techie just like you, I've always been fascinated by wireless technologies, and WiFi 7 is the latest trend in this ongoing saga.
After going through various documentation and articles on the latest WiFi 7, I have come to know a lot about it. And now, I am going to share all the information with you so that you save your time and effort.
So, without any further delay, let's dive in!
Evolution of WiFi
Before we jump into WiFi 7, let's take a quick trip down memory lane. From the humble beginnings of WiFi 1 (802.11b) to the blazing speeds of WiFi 6 (802.11ax), each generation has brought us faster, more reliable wireless connectivity. These advancements have enabled us to stream high-definition content, video call loved ones across the globe, and keep our ever-growing array of smart devices humming seamlessly.
What is WiFi 7?
Now, let's get to the heart of the matter: What exactly is WiFi 7? Imagine a wireless network that's not just a step but a giant leap forward in performance. WiFi 7, also known as 802.11be, takes the baton from WiFi 6 and runs with it. It's like upgrading from a bicycle to a turbocharged sports car in terms of speed, capacity, and efficiency.
Key Features of WiFi 7
Let's talk features, shall we? WiFi 7 comes to the table with some seriously impressive offerings:
a) Mind-Blowing Speeds: Picture this—you're downloading your favorite 4K movie in seconds, not minutes. WiFi 7 is all about multi-gigabit speeds, which means buffer-free streaming, lightning-fast downloads, and lag-free online gaming.
b) Spectral Efficiency: Think of WiFi 7 as the maestro of the wireless orchestra. It uses its spectrum more efficiently, reducing interference and making sure your devices stay connected even in crowded areas.
c) Improved Range: Have you ever wished your WiFi signal could reach every corner of your home? WiFi 7 extends its reach, ensuring a strong signal even in larger spaces.
d) Enhanced Security: Cybersecurity is a top priority, and WiFi 7 steps up its game with the latest encryption standards to keep your data safe from prying eyes.
Benefits of Wi-Fi 7
So, why should you care about WiFi 7? Well, let me break it down for you:
Seamless Streaming: Buffering? That's a thing of the past. WiFi 7's high speeds mean you can binge-watch your favorite shows without interruption.
Future-Proof Connectivity: As more and more devices become part of the Internet of Things (IoT), WiFi 7's capacity ensures your smart home stays connected, even as you add new gadgets.
Gaming Nirvana: If you're a gamer, WiFi 7 is your secret weapon. Say goodbye to lag and hello to uninterrupted gameplay.
Compatibility
You might be wondering, "Can my current devices handle the awesomeness of WiFi 7?" Well, here's the scoop. While WiFi 7 is backwards compatible with older WiFi standards, to truly unleash its potential, you'll need devices designed to support it.
Setting Up WiFi 7
Excited to dive into WiFi 7's sea of speeds? Setting it up is a breeze:
Router Upgrade: First things first, you'll need a WiFi 7 router. Invest in one that suits your needs and budget.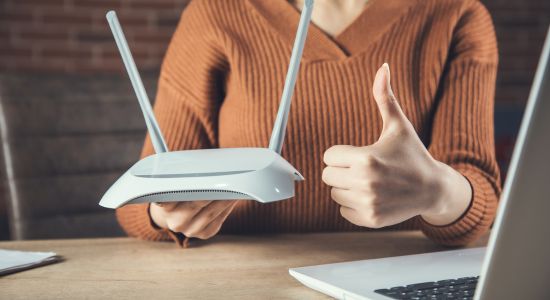 Device Check: Make sure your devices can dance to the WiFi 7 rhythm. Newer gadgets will offer the best experience.
Configuration: Follow the router's setup instructions. It's usually as simple as connecting to a network and entering a password.
Conclusion
In the ever-evolving world of technology, WiFi 7 emerges as a true game-changer. With lightning-fast speeds, extended range, and enhanced security, it's a leap toward a future where connectivity knows no bounds. So, gear up for a new era of wireless magic with WiFi 7. The future is now, my friends!
FAQs
Is WiFi 7 compatible with my old devices?
Yes, WiFi 7 is backwards compatible, but to fully enjoy its benefits, consider upgrading your devices.
How much faster is WiFi 7 compared to WiFi 6?
WiFi 7 offers multi-gigabit speeds, making it significantly faster than WiFi 6.
Can I upgrade my current router to WiFi 7?
Yes, you can, and it's a great way to unlock WiFi 7's potential.
Is WiFi 7 safe from cyber threats?
Absolutely! WiFi 7 implements the latest security protocols to keep your data secure.
Will WiFi 7 eliminate dead zones in my home?
While it improves range, factors like walls and interference can still impact coverage.