Gigabyte Z690 AERO G ATX Gaming Motherboard Review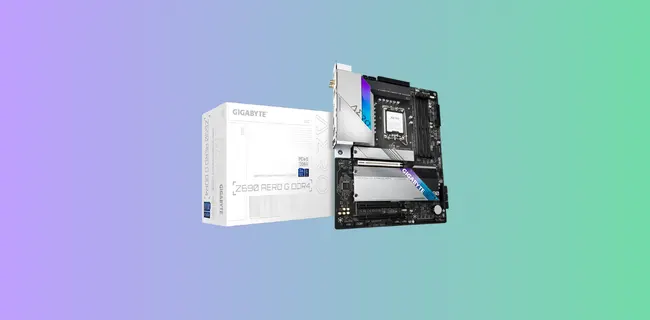 The Gigabyte Z690 AERO G ATX Gaming Motherboard is a high-performance motherboard designed for gamers and PC enthusiasts. Built with the latest Intel Z690 chipset, this motherboard offers excellent features and robust performance to meet the demands of modern gaming and content creation. In this review, we will delve into the key features, design, performance, and overall user experience of the Gigabyte Z690 AERO G ATX Gaming Motherboard
Key Features:
The Gigabyte Z690 AERO G ATX Gaming Motherboard boasts a range of features that cater to gamers and PC enthusiasts. Some notable features include:
Intel Z690 Chipset: The motherboard supports Intel's 12th generation processors, offering improved performance and efficiency.
PCIe 5.0 Support: Equipped with PCIe 5.0 slots, the motherboard enables faster data transfer speeds for graphics cards, NVMe SSDs, and other expansion devices.
DDR5 Memory Support: With support for next-generation DDR5 memory modules, users can take advantage of increased bandwidth and improved performance.
Advanced Cooling Solutions: The motherboard features an efficient cooling system with multiple fan headers, heatsinks, and a dedicated M.2 heatsink to keep temperatures in check during intensive gaming sessions.
Robust Power Delivery: The motherboard employs high-quality VRMs (Voltage Regulator Modules) to ensure stable power delivery to the CPU, enabling reliable performance even during overclocking.
Design and Aesthetics:
The Gigabyte Z690 AERO G ATX Gaming Motherboard sports a sleek and stylish design, featuring a black PCB with accenting silver and RGB lighting elements. The ATX form factor ensures compatibility with most PC cases, while the overall layout provides convenient connectivity options and easy access to essential components. The motherboard's design not only offers functionality but also adds a touch of elegance to any gaming rig.
Performance and Overclocking:
In terms of performance, the Gigabyte Z690 AERO G ATX Gaming Motherboard excels. Its support for high-speed PCIe 5.0 slots and DDR5 memory modules enables gamers and content creators to harness the full potential of their hardware. The motherboard's robust power delivery ensures stable performance, and its advanced cooling solutions keep temperatures under control, even during demanding tasks or overclocking scenarios. Users can push their system's limits with confidence, knowing that the motherboard is capable of handling the load.
User Experience and Software:
Gigabyte provides a user-friendly BIOS interface, allowing users to easily configure and customize various settings. The motherboard also comes bundled with utility software, such as Gigabyte App Center and RGB Fusion, which enable further customization and control over system features and lighting. The overall user experience is smooth and intuitive, ensuring that users can get the most out of their gaming or content creation setup.
Conclusion:
The Gigabyte Z690 AERO G ATX Gaming Motherboard offers an impressive array of features, solid performance, and a visually appealing design. Its support for Intel's 12th generation processors, PCIe 5.0, and DDR5 memory makes it a future-proof choice for gamers and PC enthusiasts. With reliable power delivery, efficient cooling, and a user-friendly interface, this motherboard delivers a satisfying experience for both gaming and content creation purposes. If you're in the market for a high-performance motherboard, the Gigabyte Z690 AERO G ATX Gaming Motherboard is certainly worth considering.